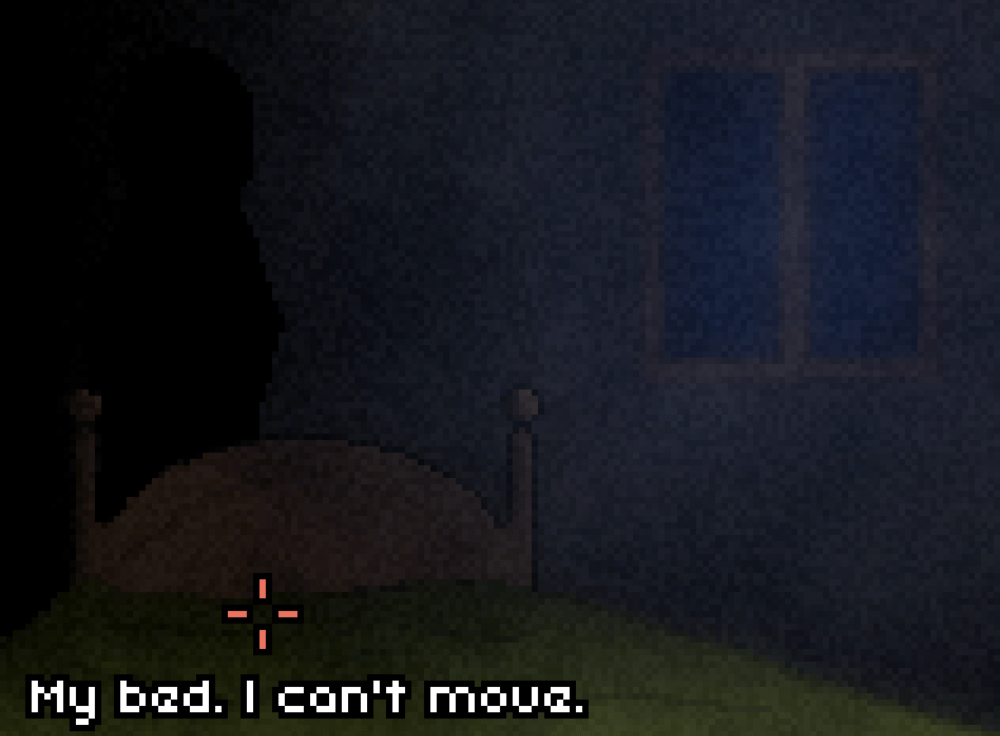 An amnesiac person wakes up in a dark dank room, stuck in a bed as a dark thing with glowing eyes attacks. This is a short, self-contained point-and-click game that oozes with an oppressive aura, a horrid noise filter and much atmosphere. The noise filter does not get any better when it starts to swarm on the screen, followed by an ear piercing ambiance. By walking though the place, you'll find items and cryptic clues that might help. There are some weird creatures about, and the shoddy flashlight does not help much. With the aid of limited sound effects and a moody score, the game puts you on edge and keeps you there. The controls are very simple. Every room is a scene and then the pointer is moved around until something clickable gets highlighted. This either adds it to the inventory, so that it can be used in another room, or activates some machinery. The puzzles are not overly hard or intrusive, and for the most part are perfectly sensible (despite the premise of using "object one" on "object two" to see if it works). Unfortunately, it is a bit annoying when trying to figure out if you can click on something, since the only indication is a change of cursor color.
Aside from this, the hanged clown does not fit well with the art direction. What puzzles me a bit is that Part 1 is featured in full-screen, yet in Part 2 the Armored Games site claims it does not support such a feature. As the consuming darkness envelops you, be prepared to die a lot. Luckily there are checkpoints; otherwise it would be a rather harrowing experience. It's short, simple and very rewarding. I just had to know the resolution to the story. Personally, I found it quite enjoyable; The Deepest Sleep delivers.
There is only so much I can say, since I don't want to spoil the fun. It's the kind of narrative that requires a low-light environment and a good audio setup for maximum impact.
If you like to be scared, feel oppressed and stumble around in the darkness with creepy things about, whilst looking for a short game to kill some time, then it's certainly worth a try. Since it's playable in a web browser at the site below, there is no reason not to try it out.
For those that want more, Scripwelder has more games in store.
First up is our disclaimer. We received this game for review purposes only, and as such all opinions in this review are our own. No money has been exchanged for this review.
Njål Sand