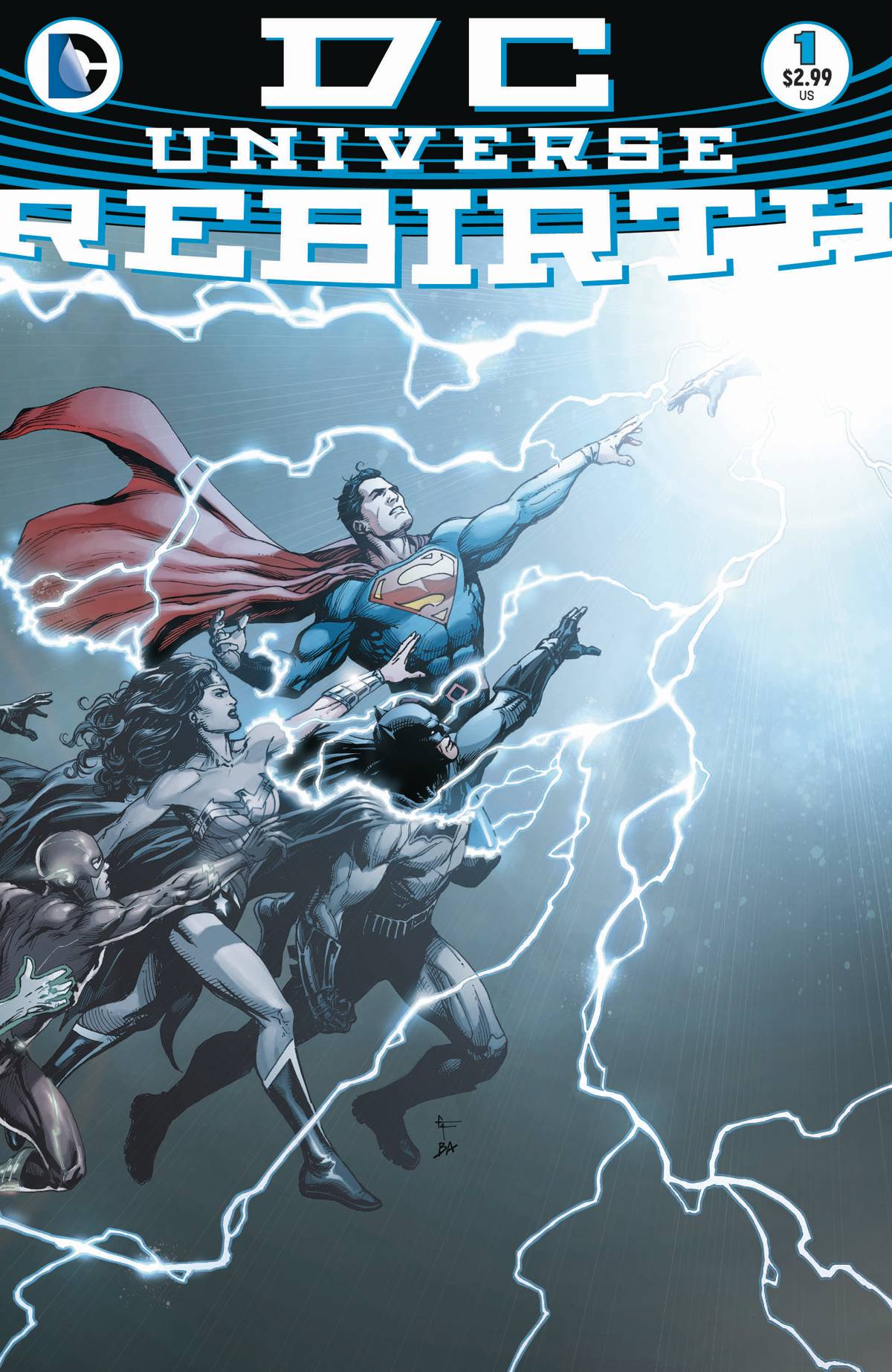 DC, after 5 years of The New 52 has finally done it. They are once again rebooting the Universe and setting things up for a new era of comics. Honestly, it's less of a reboot and more of DC stepping away from the core ideals of The New 52 and readdressing their series. It's a return to a form of DC comics we haven't seen in a long time. It's important to note that I'll try and avoid the big spoilers of the book. But in order to properly talk about the implications I will need to address a few key moments. If you're just interested in the fate of DC comics going forward, we'll get to that. As for now, I need to go into the details of Rebirth #1 and what they all mean, at least to me.
The book opens with a disembodied voice, that we learn belongs to Wally West. Not the new 52 Wally, but the original. Kid Flash, The Flash, Wally West. He talks about how he's been gone for a while, trapped in the speed force. He says that ever since Flashpoint (the event that kicked off the New 52) things have been different. Things aren't right. He says that the only way for him to return is for someone to remember him. First he goes to Bruce Wayne, who is deep in the mystery of the Joker. Batman learns a surprising fact that will propel him into his next arc, when Rebirth properly comes out. Wally is unable to connect with him, and is once again pulled back into the Speed Force. Before he tries to reach out again he muses on the fact that the events of Flashpoint didn't create the new universe. Someone from beyond time and space has been reaching in and removing bits of time, sometimes decades. Next Wally reaches out to Johnny Thunder, another speedster from the golden era. A member of the Justice Society, Johnny mistakes Wally for his lost companion, Thunderbolt. Wally, unable to make the connection is once again hurled out of existence. Again Wally muses. He says that the one thing that has been missing from the world is Love. The thing that his unknown being has taken is the love and hope that the heroes of this universe once had. Ollie Queen and Dinah Lance, once deeply in love, have been set apart by the being. He witnesses Aquaman proposing to Mera, and realizes that's the connection he needs to make. He needs to reconnect with his once love, Linda Park.
Here is possibly the most interesting part about Rebirth. This is essentially Geoff Johns saying the thing that has been missing from the new 52 is love. Love between the heroes. Love for saving the world, and crime fighting. New 52 has been so dark and dour, things need to change. There needs to be a sense of happiness brought back to the DC universe. His connection to Linda doesn't work out. She doesn't remember who he is and once again he is sent back. At this point he realizes he can't connect to anyone and he'll be consumed by the Speed Force. He sees the new Wally West save a little girl's life and he remarks that he isn't needed. His mantle is in good hands. He then goes to make one final visit. He goes to see Barry Allen, the current Flash. He goes just to say goodbye. Once again Wally remarks on love. He says Barry always has a smile on his face. He says Barry is the only one left who actually loves his job. He loves helping people in need. Wally says that Barry is the only hero who stops and talks to the people he's rescued after. Wally and Barry have a heart-felt meeting, even though Barry doesn't recognize him. Wally tells Barry that he's the reason Wally's life is so great. Barry has been an inspiration because of the love he's shown the world. Wally is no longer so obsessed with returning to existence and is happy to part because of the love for the life he once had. At this moment Barry recognizes Wally and pulls him into existence. Wally then tells Barry about The Being.
We finally have the return of a hero who has been lost to us. We finally know that the new 52 was created not by the Flashpoint, but rather by someone removing love from the universe; someone experimenting on the entire universe, seeing what would happen if love was taken out. This mysterious Being is the DC company, and Wally West was a voice for both the writers wanting to work on something new and the fans wanting a change from the dreary New 52. Over the course of Rebirth we get a few glimpses of other heroes, such as The Atom and Blue Beetle. We see Superman from the Louis and Clark series, as well as the pre-crisis Superman who died in his world and appeared on earth prime. This gives us a good look at what other series will pop up in Rebirth. Ultimately DC is going to return to more light hearted, fun stories. The grittiness of New 52 has put a lot of people off of reading DC and it's time to change that. Happiness and Love will return to this company and we'll see what new exciting stories will arise.
As for what's actually coming out? Well, there are a lot of different rumors about what's happening. But as far as I can tell, several series are sticking around, several are being discontinued and a bunch are being merged into a single series.
The series going forward are as follows:
• AQUAMAN
• BATMAN
• THE FLASH
• GREEN ARROW
• GREEN LANTERN
• SUPERMAN
• WONDER WOMAN
• ACTION COMICS #957
• DETECTIVE COMICS #934
(an inspiration of the return to form that DC is going through, and the notion that the comics will be more like the originals in tone, both Action and Detective will return to their original numbering)

• HAL JORDAN & THE GREEN LANTERN CORPS
• JUSTICE LEAGUE
• NIGHTWING
• BATGIRL
• BATGIRL & THE BIRDS OF PREY
• THE HELLBLAZER (John Constantine)
• RED HOOD & THE OUTLAWS
• THE SUPER-MAN
• TITANS
• CYBORG
• DEATHSTROKE
• HARLEY QUINN
• JUSTICE LEAGUE AMERICA
• SUICIDE SQUAD
• BATMAN BEYOND
• BLUE BEETLE
• EARTH 2
• GOTHAM ACADEMY: NEXT SEMESTER
• SUPERGIRL
• SUPERWOMAN
• SUPER SONS
• TEEN TITANS
• TRINITY
As for what's still around, there are again a ton of rumors. But most sources point to these being the only series going forward and everything else will either be promptly canceled or phased out over time. I for one am really excited about everything. I loved reading Rebirth. I think it was brilliantly written and there is so much more analysis that can be done. I just lightly touched on some major themes and gave a run-down of what happened. If you are interested in a deeper analysis with all the spoilers of the book, please read:
http://birthmoviesdeath.com/2016/05/23/why-dc-universe-rebirth-is-a-gutsy-work-of-comics-criticism
It'd be unfair to say that what I wrote was entirely from my own ideas, and that I didn't take influence from the aforementioned article. Happy reading fellow comic fans. I hope you are all just as excited about this as I am.
-Jordan Kamm-