Take a genius crime-solving teenager. Put him in the body of a six-year-old child, give him a tranquilizer dart, a shooting clock and some other high tech tools that would make Q jealous. Sprinkle it with 800 plus episodes and 20 movies riddled with crime and corpses and there you have it. Detective Conan (aka: Case Closed) is the longest running detective series in the world…and also one of the most violent series imaginable. In virtually every episode someone dies in a gruesome and mysterious way.
Kundo Shinchi was tailing some men in black who knocked him out and fed him an experimental drug that shrunk his body. Since this would put some real strain on his hobby of solving crimes, he came up with a brilliant ploy. He got his friend, Dr. Agasa to make him a bunch of gadgets to compensate for his size and age. Conan then moved in with his friend and potential love interest: Ran.
Incidentally, his childhood friend has a father who is a drunken womanizing gumshoe who jumps to conclusions and sucks at solving cases. Fortunately this turned out to be easily rectified, as Conan drugs the poor sod and proceeds to imitate his voice every time a suspect is about to be exposed. This gave the man the nickname Sleeping Kogoro, and a lot of fame (which in turn attracted even more cases). Naturally Conan has to keep it hidden from everyone else, lest the men in black who shrunk him in the first place find out he's alive, and the proceed to kill everyone he loves and cares about.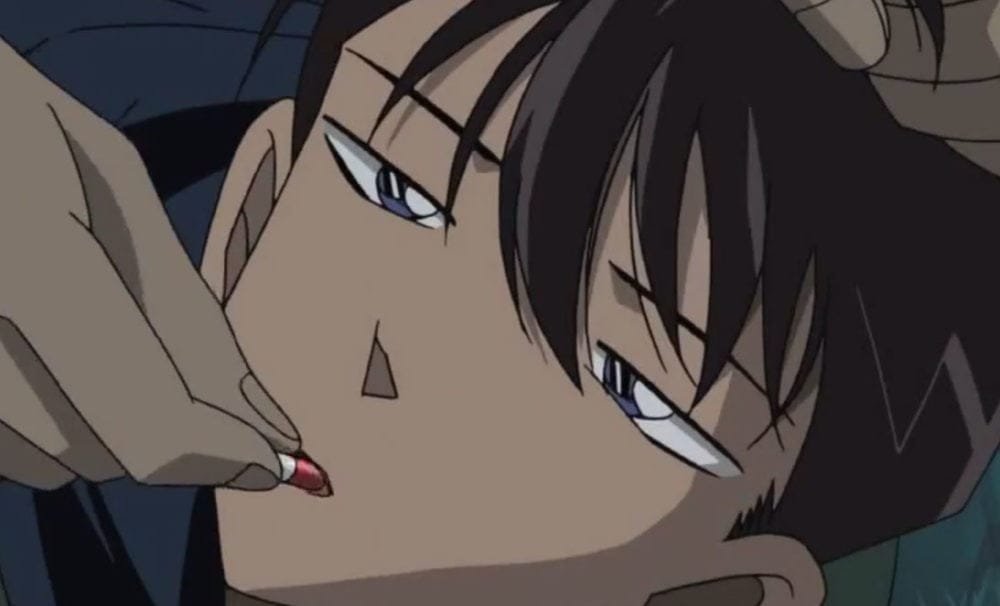 Mind you, he's quite capable of getting them almost killed himself due to the abnormally high crime rate in Japan. I can assure you that when he and his friends are about and at it, corpses will fall from the sky in a flat, featureless desert.
Every now and then he is also joined by his fellow classmates and Heiji, who is also a detective, and Ai, who was part of the organization. She too, shrunk herself into a child with the mysterious drug. It should by now be worth mentioning that the first episode of Detective Conan starts with a couple getting decapitated in a roller-coaster, which means that the series can get quite bloody and absurd at times. Most of the time however, it's quite down to earth (if you ignore the absurd number of explosives that show up in the movies and his inflatable soccer ball dispenser).Some suspension of disbelief is needed, since the whole reason Detective Conan keeps up the masquerade from his friends does become quite arbitrary. It's not that hard to deduce that this kid is too smart for his own good. But then again time does not seem to move much in the series, even when the technology is updated. The author has clearly done his research, and for the most part it's accurate and wears its inspiration on its sleeve.
Watch it on Crunchyroll
http://www.crunchyroll.com/case-closed
Njål Sand