Now, for the last few years I have watched the hype of Destiny grow to exponential proportions and I never once had a chance to play the game, despite owning a copy and all the DLC (Long story). But since I had some downtime while sorting through the mess which is my life, I got a lovely review copy of Destiny 2 from our friends over at Activision and finally got to try it out.
I love it, I honestly wish I boarded the hype train with everyone else a while ago. The game shares remarkable similarities to a lot of the game titles I have enjoyed over the years and is simplified much to how I would design a game and yes, I have designed a few games in my time.
Its weapon system is basic, like very basic there are probably at least three to four different types of armors for each rarity for each class. So four green, four blue, four legendary and four exotic. I may be wrong on this but after getting four days worth of grinding in to get my power level up to 280, I have noticed an awful lot of similarities in all the armors.
However, this isn't a bad thing it just means you got to pick the equipment you want and like and just power it up rather than keep picking up new armors and throwing out the old armors. The game focuses more on the key element of appearance rather than functionality, because almost all armors at least for the Hunter have pretty much the exact same function and it doesn't really change. So go ahead and make your outfit look good, the other pieces of armors will probably do the same thing anyways.
The same goes for the weapons, not just the armors. The weapons have basically the same functions as the guns in Borderlands, its a gun except they can add the bazillion different guns in front simply because of the power levels for each gun or effects making them all individually unique effect being used in this case of elemental property.
Now, I know this similarity is a bit crass but its still accurate. I love the Sparrows you get, it reminds me so much of Firefall with the vast open area's you can explore and traverse, Destiny probably came first but Firefall was free and available to me so I could play it and I absolutely loved the ability to do that. It was even more fun for me to do sick tricks in the air with just like the latter and it is incredibly enjoyable.
But I think despite the mechanics, from riding a Sparrow, or customizing your character the things I enjoyed the most was the story of the actual characters. Cadye (voiced by Nathan Fillion also!)  being my favorite to the point where if you put the two of us together in a room. We would never shut up, because of how similar we are. (Friends noticed it also.)
The story in this game alone feels solid, but from what my friend was telling me since I never played Destiny, I kinda switched off during the time traveling robots. So I fear this is something I cannot connect too yet simply because this title is its own title, and I am jumping into the middle of it without playing or knowing ANYTHING about Destiny.
But I think the thing, the one key element I enjoyed about the game, about the entire time playing it was and has definitely got to be the musical composition. I love, the soundtrack. I have never had in any of the previous games I have played had a musical score make me feel so much as I played through the title with my friends, and colleagues fighting Vex, Cabal, and the Fallen.
The game is good, from its vast open area's loaded with visual porn in ways that just make you stop and admire everything that's been put into this title. It's unique characters, its witty dialog, and simple yet enticing game play mechanics. Games like these are a rarity now a days even more so if its a triple A title and they are pushing hard to get it out. Making the game more about the experience rather than cheap shoddy work to make money.
However, the competitive side of the game should be tweaked a bit.
Despite the player power cap being well, capped in such area's as the Crucible item effects aren't and if you haven't been lucky enough or skilled enough to get special items such as the MIDA guns or Foetrackers you can be at a bit of a disadvantage. Although a good well balanced team can fix a lot of these issues and skill can outshine item effects easily.
This is what a game should be, from the adventures with friends, to a story you can enjoy by yourself, the game is really amazing. In conclusion the game is amazing, and I absolutely love it, from its musical score, to is mechanics, and overall game play, with very minor things being barely noticeable, hell its not even pay to win, any money you put it for bright engrams is solely cosmetic or maybe a slightly faster sparrow and even then you can get them by leveling up once you go beyond level twenty the cap level.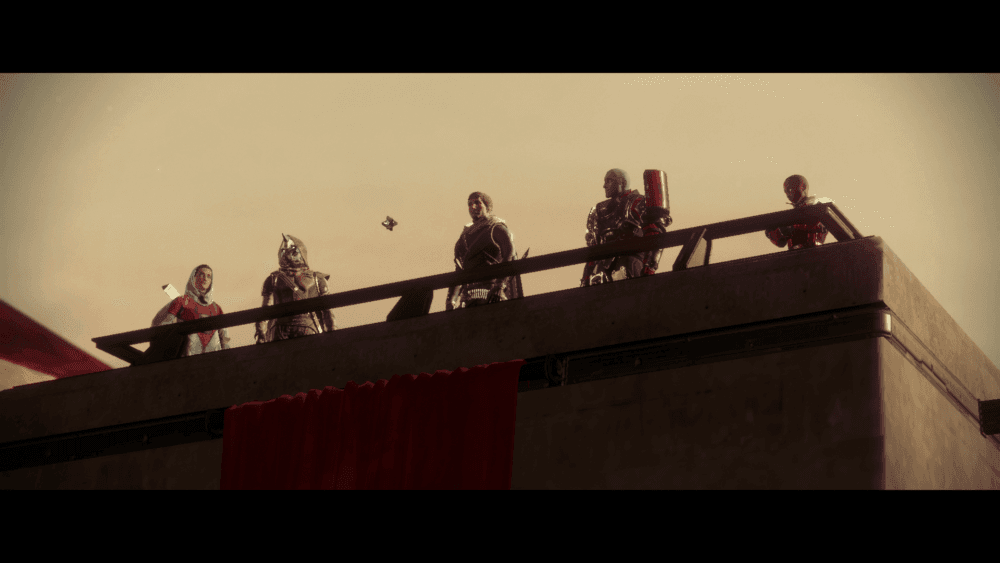 I even managed to get a few, But like I was saying the game is good and despite the scenery being a bit linear in places it brings that atmosphere that people want, i've found myself just listening to the music in the game and the ripples of the water on the farm because its enjoyable, and it makes me yearn for a chance to experience things like that in real life.
But despite all the positive things I got to say about it, I should point out the loading screens are annoyingly long, and serve only as gloat material to show off your ships, on the PC it crashes quite a bit and I have been stricken with error code buffalo a lot. Not to mention the game will suddenly and without warning just exit to the desktop for no apparent reason. But despite all these issues,
I love it.
-Daniel Clatworthy
(Team Note: Zaceron hates the suicide enemies in the HIVE and Vex, and Invixs thinks the story is very lack luster in comparison to the first game, and we all experienced bugs that made playing the game far more challenging than it should have been.)