You play as the student Yukito Sawatari; a single virgin with an empty wallet saving for a driver's license and car in hopes to score a girlfriend. Naturally, you're looking for a job to change this situation! You even brought a pair of lucky socks as adviced from the telly, and did these do the trick! A job interview offering 4 million yen ($32,000 U.S.) for 2 weeks work! Atta-boy! There is no way this could possibly be a suspicious trap, right?
I played Starless: Nymphomaniac's Paradise and yes, I've seen enough hentai to know where this is going. It goes without saying that this game is NSFW and is quite twisted, even for its genre. This is nothing unexpected considering it's from Sei Shoujo, the famous hentai creator who brought you Bible Black and Discipline. Now, his Starless: Nymphomaniac's Paradise has been translated for western audiences and released by JAST USA, available as physical and digital format on their website.
Fans of Sei Shoujo should consider the limited edition with goodies;
*The game on DVD-ROM.

*A gorgeous 62 page perfect-bound artbook with gorgeous art and sketchwork of the game.

*An original interview with artist Sei Shoujo about his art influences, how he entered the industry and more.

*Separate game manual.

*Download card w/code for those who don't have optical media drives.

(Starless limited edition can be purchased here)
The game starts as follows; After a call to Mistress Marie in response to the job ad, you arrive at Mamiya Manor and proceed to perform embarrassing attempts to enter its closed gate as nobody is around.After deciding to climb over, you stumble into a dog who's ready to rip your face off; that is until Marie's youngest daughter, Marisa saves your arse. Your actions don't leave her with the best first impression, although she's no angel herself. 
Upon entering the mansion, Sawatari points out how the maids' outfits look far from practical to perform regular house chores. I can't help but strongly agree, after staring at one top-heavy "maid" after another. Their backs must be superstrong.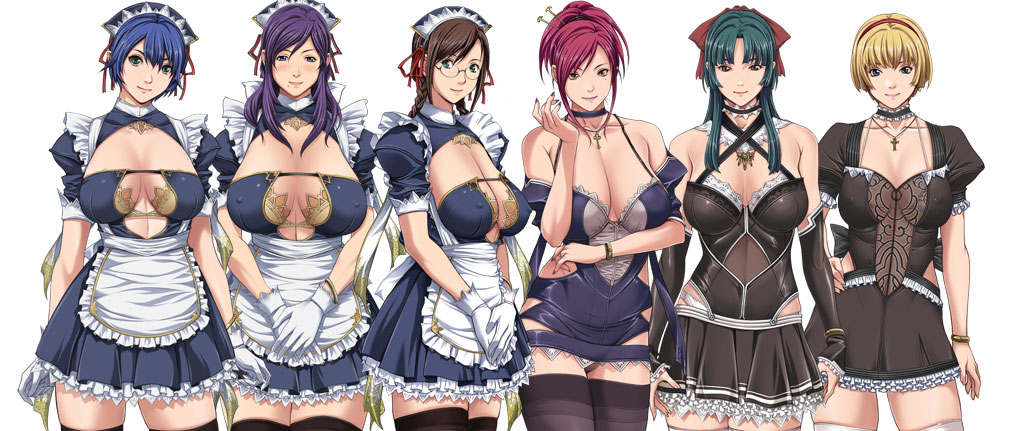 Enter Mamiya Manor; and welcome to a very special interview! Specifically, it's an interview to become a sex-slave. Sound good? Scantily-clad and ready to engage in a Cluster-F of fetishism, this job will make you question your life choices and definition of sanity…as well as the sanitary condition of some of the cast!
"But Alice, can it truly be that bad?"
Perhaps not, considering how JAST censored out computer graphics (CGs) related to:
*Scatology (about 2-3cg at the end of sex-scenes, occasionally more.)
*Bestiality
*Cutting a certain body part with a guillotine
(Futanari, Incest and Pee is still present, however)
Nothing else has been changed or omitted from the main storyline, and an unofficial patch exists to restore cut CG's (pun intended).

This plot is filled with long scenes of heavy fetishism and twisted characters, though some scenes drag out for quite some time while you stare at how many litres of junk-juice Sawatari can milk out. Fap'Olympics, anyone?
The artwork is great, and the character designs are appealing even though their accopanied taste won't necessarily appeal to all audiences. When it comes to characters themselves you either want to wrench their guts out or help get them escape from that den of evil, there really isn't much of a middle-way with the cast or the story.
Be prepared for abusive hentai, for if it's not your cup of tea you might want to avoid this game and author. Fans of Sei Shoujo's work however are certain to love this 30-50min long game with 10 unique endings filled with 3000 erotic CG-artwork to please the extra lewd. The cast's voice acting makes up for lack of animation, in fact the overall quality of acting and soundtrack is quite splendid.
However this isn't a visual novel for the mainstream gamer, nor would I reccomend it for those new to the hentai genre. In the end, before playing this novel each gamer's should consider if it fits their.. personal preferences.