A few weeks before the convention opened, the Salt Lake Comic Con (SLCC) (the larger, more powerful convention here in Salt Lake City) purchased 50% of the ownership of the Salt Lake Gaming Con (SLGC). At first I was curious as to what that meant, exactly. The SLCC is a ruthless corporate machine willing to turn the hearts and souls of Nerddom into a quick profit. Arriving at SLGC, I instantly smelled the essence of the Comic Con. They're well known for their lack of preparedness and Kafkaesque queue lines and entry system. Last year at Gaming Con, the press was invited to arrive a day early. We received information packets detailing the coming events of the weekend. We were shown around the places and told where useful things were. The press room was in a back corner. It was nice and quiet; a decent space to work. The room was filled with water and occasionally snacks.
Comic Con has a clear fuck-the-press attitude, which was made more than clear at their main event last year. Here at Gaming Con 2016 things are not quite as organized as they were last year, and I blame it on the new interference of Comic Con.
Starting off, we were shown around the exhibit hall by a coordinator and eventually led to the press area; a small corner right next to a giant TV. At this point, the journalists and I started questioning where our press passes were. The response we got was: "There might not be any." No fucking Press Passes! This is the one thing that lets me talk to developers and booth operators with a bit more authority than the standard con-goer. Later I learned that before the takeover, press passes were, in fact printed. When Comic Con came in, the passes were all scrapped and a new design was created. We eventually did get press passes a few hours into the con, but the lack of knowledge about it was what really threw me off.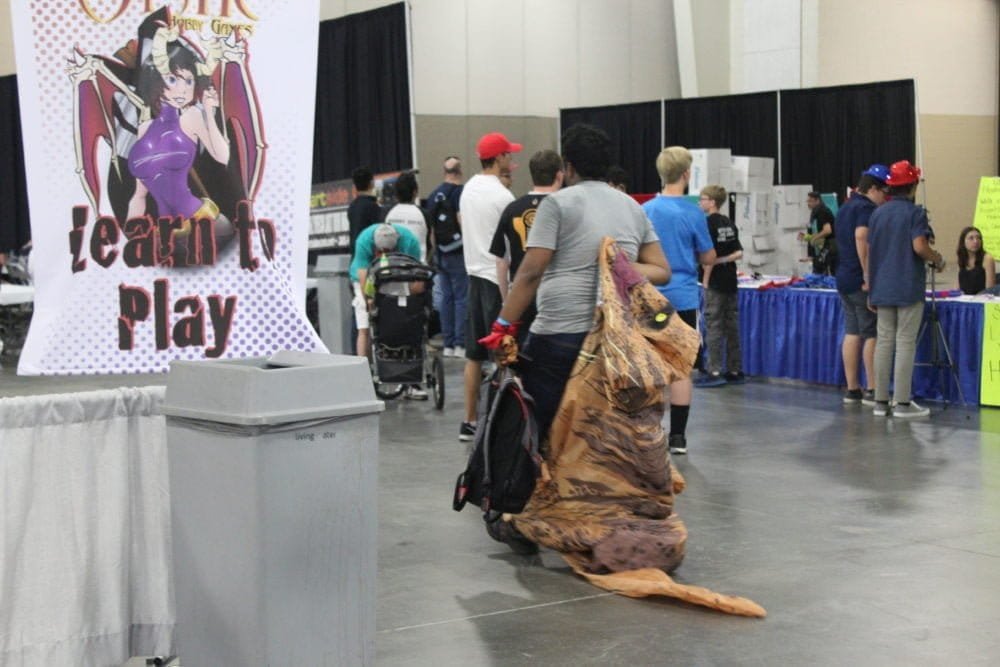 Everything has been so spotty. "Right now I'm working without Intrnet in the press room. Christ Alive! Why is there no usable Internet here? We have to share with the PC open play area. I can't load a fucking website to save my life." Yup, this is the stink of the fuck-the-press mentality mentioned earlier. The Press Coordinator was doing his best to try and help us, but he knew about as much of what was going on as we did. The Internet we were promised never came. Other press members resorted to using their phone as a hot spot to connect to something. I sat there in vain, refreshing my webpage again and again. Walking around the con I could definitely tell there were some major changes. Things felt more like Comic Con than a typical gaming con.
The vendors were the main attraction this year (in the past the developers and gamer's were the main focus). The booths set up for them took up a large space and were definitely the centerpieces. Now it was a bit different this time. There was still a space for developers…it was just smaller. Some developers were allocated weird corners and tiny booths, shoved away to make room for the moneymakers. It was like developers were here just to meet some sort of quota.
"Ok, we now have enough video games here to call it a 'video game convention.' Now let's get more people selling pop! figures".
To the con's credit there were huge areas where people could play video games. Rows of PCs were set up for anyone to jump on and play. A lot of people just spent the entire con in this area, having a good time playing Overwatch or League of Legends. There was a large section for board games, and an even bigger one for tabletop RPGs. This was definitely refreshing to see, and one of the few decisions made by the original Gaming Con management.
Once again the people who truly shined here were the ones who showed off their art, rather than trying to make a quick profit off of the con-goers. The Utah Games Guild (UGG) was back to show off some new projects, as well as some improved from last year. Titles such as Crashnauts and Legacy of the Elder Star have returned, donning shiny new designs.
One such new game was We Must Go Deeper, an illustrated 2D co-operative submarine experience.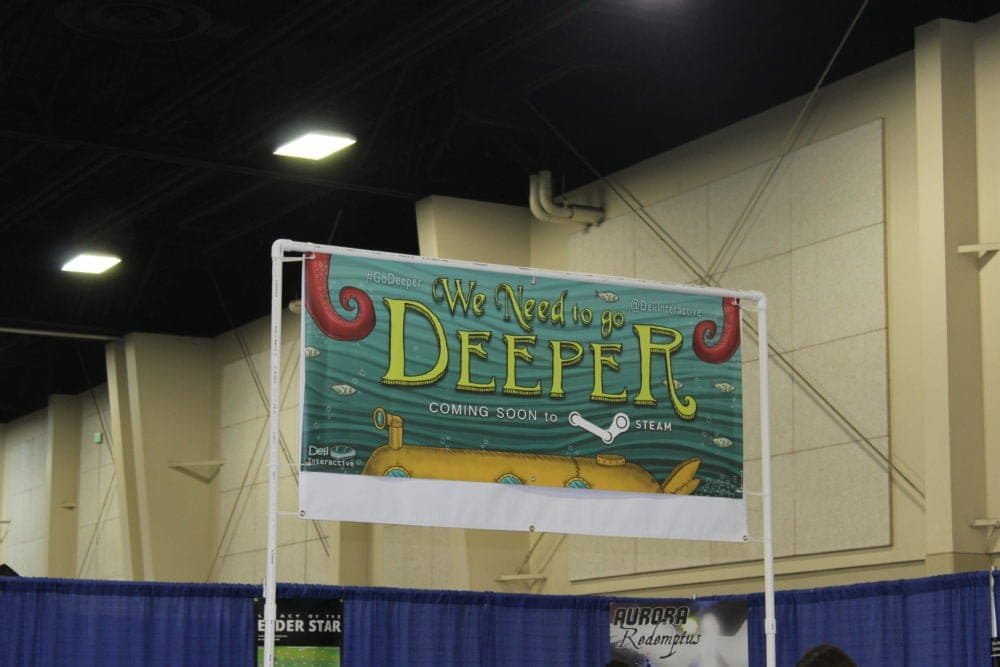 Each players mans a different part of the sub, such as helm or weapons. They work together to reach the bottom of the sea and fight a deadly giant squid. The game is still in development right now, but I'm very excited to take a look at it once it's ready. During the demo, I played in the weapons section. I had to manually load each torpedo I fired. I had to run around the sub, wrench in hand, fixing holes that sprang up due to the attacking sea creatures.
Another title was Ethos, a dark AMMORPG rumored to have an entirely player-driven economy, and boasting Dark Souls-like combat mechanics. The demo featured a boss fight against a massive troll. Right now they only have a "proof of concept" ready. But if they take their time and refine what I played, they could have something truly special. I'll definitely be following the development of this game as it progresses.
The people over at UGG are working hard on their games. It was amazing to talk to them about their progress and aspirations. This group is certainly dedicated to their art. I love the UGG's ideals. Like-minded people are brought together to collaborate and bounce ideas off one another. It's great to have other creative people around you while you work. It really shows in their games.
One thing that was pretty exciting was the abundance of VR at the con. There are a lot of places who were just using VR as a gimmick to sell their products. One product was a VR Cardboard. Purchasing one of these got you 15 minutes in the HTC Vive. Another booth just had a Vive and an Oculus Rift set up. For the price of $10 you could spend 10 minutes on their systems (except Microsoft for some reason). This is the only free VR experience I've found here; although it was only for 5 minutes and the line was huge. This seemed bizarre, since you'd assume Microsoft would be the first to try and lure people into buying something, or even more heinous pre-order a game. However, Microsoft was just sponsoring another group.
Wil Brown, head of the Utah Virtual Reality (UVR) meetup group, has done a great job of setting up and showing off the wonders of VR. To hear him talk about working in VR space was simply incredible. He has such a passion for it and I couldn't help but see just how amazing the technology actually was. He should have had his own panel, instead of stupid shit like the dumb PS4 vs. Xbox One debate they gave him. I've set up some special deals with Wil and will be covering UVR here in the near future. In my random chats with Wil, we discussed some incredible stuff. We talked about the Vive and the Oculus. But then he showed me something that isn't on the market yet, and something to which few developers have access: the Microsoft HoloLens. This mixes both reality and virtual reality into the perfect sci-fi experience…or it will once it's ready for consumers. As of right now it's just a "developer's kit"; Microsoft trying to create some programs for it. At most you can create 3D images that sit in the middle of real space. From what I experienced with it though, this is the dawn of the future. Soon enough this thing and things like it will be widely available.
On the non-video side of gaming, there was plenty to see…surprisingly so. Piazo, a tabletop RPG company was there to host some Pathfinder Society games. An employee for Piazo held a panel about upcoming releases and general RPG talk.
The panel was pretty small but the people attending were all interested in RPGs, so it led to some good discussion. Additionally, I decided that it'd be fun to do a bit of role-playing. I sat down for an hour-long session of D&D and played Lockwood, the arrow-slinging animal whisperer. Although I tend to enjoy other systems more, it was really enjoyable to revisit good ol' Dungeons and Dragons. This is what the con was truly about. This was the best part; a few strangers sitting down and sharing a hobby. Despite all the corporate chicanery, stuff like this was still able to shine through. It's easy to get caught up in the money-hungry nonsense that conventions draw, but at the heart of it all these are still these brief moments of happiness and excitement.
-Jordan Kamm-