Pokemon Reborn, My less than glamorous Pokemon journey started with a blast; Some insane terrorist decided to blow up the train I was riding on. The nerve of some people. The call of adventure lured med into the region of Reborn. Little did I know that this place is a rundown carphole. A depressive and run down place. Where nature has run wild and the once tranquil Azure lake has turned into a toxic mire. There are more Muck in there than Magicarp, which is saying a lot.
If you are reading this, then you are probably quite familiar with Pokemon already. Never the less here is a rundown;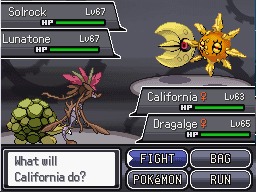 Reborn is a fan game, which is in no way affiliated with Nintendo. However if this was an official release it would certainly bring the franchise to a new level. Story wise it follows the exact same set up. A trainer starts his journey with one Pokemon, which he use to capture more creatures. Which are used to fight gym leaders and a nefarious gang of thugs with an agenda. However unlike the mainstream games, this one is hardcore. It enforces the rules I seldom had think of and forced me to play outside my normal comfort zone.  
The silver lining is that I could pick any starter. Amongst these rules I never payed much attention to, is the level cap on the badges. If I have only kicked the grass of one gym leader, then I can't get a high level Pokemon to obey me in battle. Normally the camp is quite high, but with twice the number of gym leaders it become very tricky. If I have two badges, the level limit is 35. While Three is 40. This means that I can't power level my way through them at all. Not only that but the move set and the Pokemons they use, is pulled straight out of competitive it seems. Besides that there is not that many Pokemon to find early on, that is not poison or normal type. Though I did get an appreciation for the toxic spike ability and the ways of using Trubbish in combat. All the special Pokemons are found all over the place, be it an abandoned building, grass or random events. They are all over the place. I feed my team with common candies to decrease their level, in order to have them obey me. A fun challenge but hard.  
Though that being said, the most interesting feature is the field effects, which boost certain types. Within a forest, grass type will be strong, until I set the field on fire. This interaction holds true for all the other types as well in Pokemon.
In most Pokemon games the music is a mixed bag, cant say I really like the music most of them. However the Reborn music is just up my alley, oh so catchy and cool. To me that is. Where the game fails a bit, is the inconsistency of the environment sprites. Some of them does not match the aesthetics and are clearly out of place. Though it did not deter me from playing, It is highly recommended for any fan. But be warned the story is much, much more darker and serious. With some people dying amongst other things. Since it is made with RPG Maker, it runs fine on PC and can be found with a quick search.
-Njål Sand