So I finally got to try a subscription box from Geek Fuel, and jumping right into it I must say it was nicely packed. I don't have photos because I got selfish and decided to just tear into the box like an angry child with wrapping paper.
One of the things I noticed about the box is the cost, which I found a bit low. But when I opened it I wasn't disappointed by what I found. Inside we had a lovely Steam game, a Batman vs. Superman T-shirt (XL, my size too!), A Legend of Zelda: Link poster that's exclusive to Geek Fuel and a Funko vinyl doll which made me want to shout "Wonder Woman!" like in the old TV shows. But you probably haven't seen those.
I also got the Amazing Fantastic Incredible, memoirs of Stan Lee, which surprisingly enough is spot on for this box. They also included the Geek Fuel magazine which emphasizes things they like to talk about, including console gaming. Truth be told, I didn't really pay that much mind; I got an entire box full of wonderful geeky things which will keep me busy for quite a few hours. By quite a few hours, I mean I'm just going to be reading the Stan Lee memoirs for a really long time. The book is hard cover with a nice paper-back design that's very well done.¨
If you want to watch the opening of the Geek Fuel box, the link will be in the description below. But now is the part where I say "Hey if you want, you too can order a box and they have various subscription fees for what you want." You can buy a box for $17.90 (USD), but that's only for a month. If you decide to order for a year, you can get it for $14.90. I don't know why they're priced like that; I find it pretty stupid.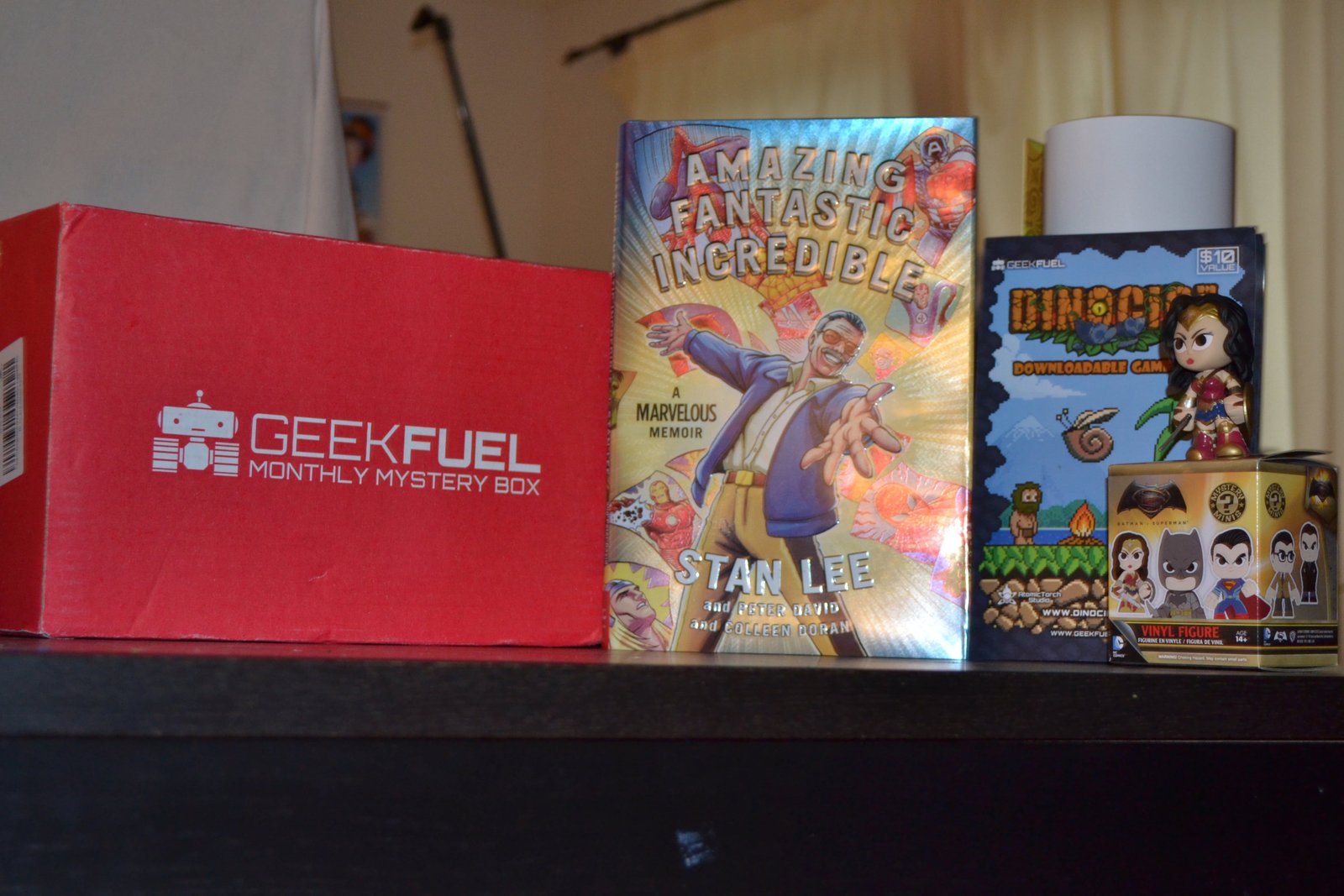 So you can get more things for less if you purchase an entire year's worth…assuming you have the money and want to order a nice box of geeky things. I absolutely love my box, but honestly when we were ordering it we had a few issues. These initially prevented us from getting it until a polite staff member patiently helped us out.
Not many companies we've had the pleasure of working with are kind enough to actually take the time to deal with people in a polite way. So for me that was a bonus. It shows me that they actually go out of their way to help people who are interested in their product without shrugging them off. This was a definite selling point.
But anyway, if you're interested in picking up a subscription box from Geek Fuel you can visit their website here. Or if you'd be so kind, you can click this link here and use our referral so we can get more boxes! What can I say? I really do love geeky things!
-Daniel Clatworthy-