First up is our disclaimer. We received this game for review purposes only, and as such all opinions in this review are our own. No money has been exchanged for this review.
Enter the Gungeon
Play as a shady gunslinger stuck in a gun-themed dungeon, where living bullets are armed with guns that shoot bullets…and that's only the first room. In fact there are several gunslingers to pick from, with some unique starting options and passives.
Tutorials are for chumps; here is all you need to know. One stick is for moving, the other is for aiming and every hero has a gun that shoots projectiles. They all come with a "dodge roll" and can have an extra item equipped. They also have a fancy bullet-stopping area attack.
The game is quite simple, highly intuitive and extremely addictive, in both single player and coop modes.
In this randomly generated "gungeon", virtually everything will try to kill you unless you shoot first. If you can't kill it, you're obviously not using enough bullets! That being said, not every weapon uses conventional ammo. Even a simple water gun is deadly and good for quenching fireplaces and things that throw Molotovs, or pesky items afire.
The most brilliant gun I've found so far is the love gun. It shoots nice things, including hearts and squeaky teddy bears. With a little luck it charms enemies as well. Too bad the gun and item drops are completely random, just like the room layout and enemy setup. Rooms usually contain an assortment of things, such as debris, flippable tables, and movable barrels. Naturally, this means that red ones go boom. The most annoying thing with Enter the Gungeon is that there exist suicide bombers. Fortunately they're easy to dispatch and will probably blow up adjacent enemies.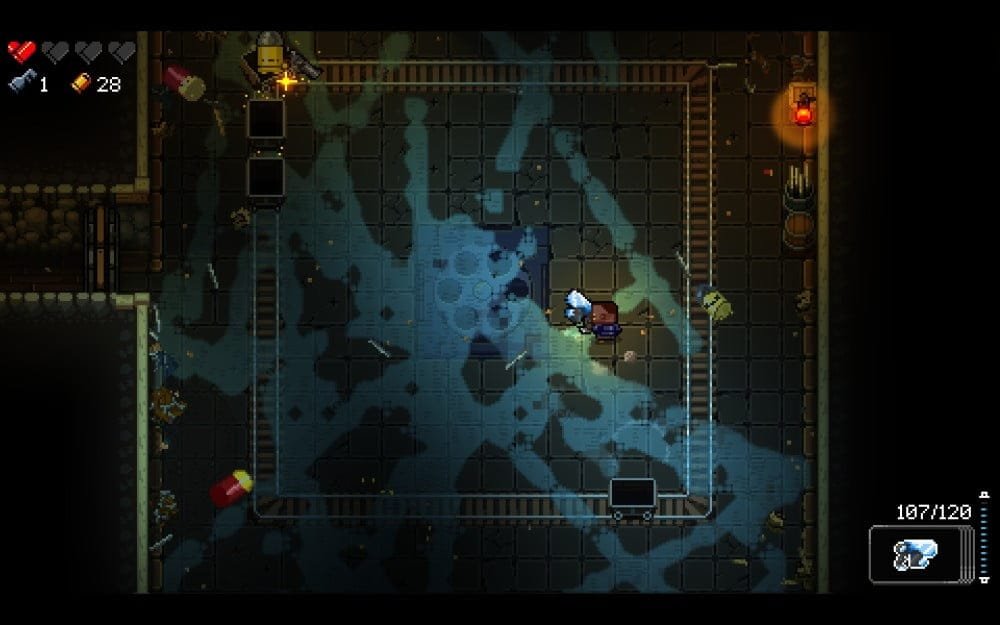 Each floor has a boss and most have a store, as well. Eventually savvy players will realize that it's possible to reveal floor shortcuts and find many unlockable goodies. Even the first floor can be a challenge, and enemies will most likely succeed at killing you. It's a top down game where some luck, skill and a lot of patience is needed to progress. Enter the Gungeon is drawn in that lovely pixel art which is so popular these days, and it works wonders. Despite the easy controls and solid mechanics, this game will kick your ass hard and you will die a lot. Luckily, it's possible to unlock shortcuts and other hidden goodies. But those take some luck and a lot of skill to access, since the bosses drop a special currency. Trust me, each and every boss is unique and hard. This means they will gobble you up and spit you out; then do it all over again.
Don't let the sprites of the gungeon fool you. A lot of effort was put into the graphics, and it shows. Each room is littered with stuff to destroy. Debris are mostly permanent and can be scattered about with explosions. Many of the gungeon's rooms provide teleporters. These devices allow you to fast-travel around the map; as long as you're not currently engaged in combat, that is.
The room you're in will be "locked off" during shootouts. The soundtrack for Enter the Gungeon is quite catchy and brilliantly captures the feel and style of the game. It can be bought separately, or in a bundle. The same goes for the sound effects. They make just enough noise not to become annoying. Personally, I enjoy the hell out of this game. However the premise and execution is not necessarily for everyone.
http://store.steampowered.com/app/311690/
Njål H Sand