Information was taken from meeting and talking with Nicki Rapp at various instances at the convention, and not just from one main interview. I first met Nicki at her booth on the convention floor, we had a lovely conversation about the basics of her career. I wanted to ask her about her favorite characters, upcoming projects, and general information about working as a voice actress.
She was being promoted by the convention as the voice of Lily from The Walking Dead. Although, this being her most famous role, it wasn't her favorite to play. Her favorite was the character of Lili from Psychonauts by Double Fine. Nicki told me that it's one of the characters that she's played that she best connects to. I lightheartedly replied by telling her Lili was my favorite character from Psychonauts, and probably out of all the characters I've seen her in so far. For the most part Nicki has worked in voicing characters in Adventure games. She's worked with both Double Fine (Tim Schafer being a close friend of hers) and Tell Tale, whom she has probably worked the most for. Including titles like The Walking Dead, Tales of Monkey Island, and Sam and Max. She also voiced children in both Sims 2 and Sims 3. As she has demonstrated she is still able to easily create Simlish. She said that if she thinks too hard about it the language doesn't come. She has to completely shut off her brain to do that kind of improv. She also mentioned to me a couple of upcoming projects she's been involved in. Including Firewatch by developer Campo Santo, who is made up of members of both Double Fine and Tell Tale. She plays a character named Lilly, as kind of an inside joke for those who know her previous work. She also mentioned a Cartoon Network Mini-series coming out called Long Live the Royals. Where she plays a character named Alex. She went into more detail about that in a press interview that was held.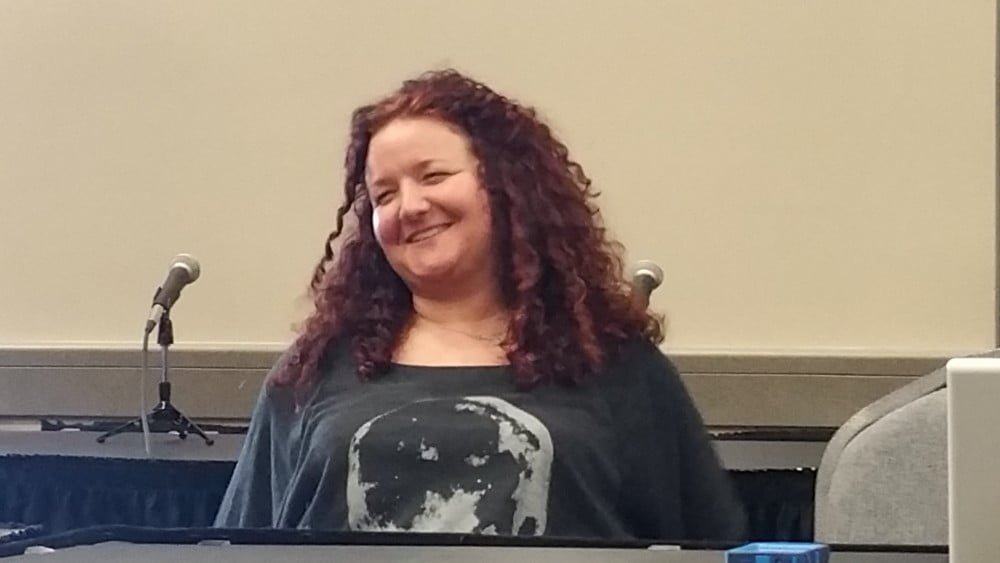 "I Booked the pilot four years ago. And my agent had told me that if it gets picked up it's possible that they won't keep me. Because I'm not a celebrity." "I got the Email and the call saying this is what's going on, but they were inviting me to re-audition." "I literally have $500 in my bank account, I spent it all to get to LA from Oakland, and I did it. And I saved it, and I got it. It felt so good and victorious."
She was very excited to be getting this project. I asked her if she wants to do more cartoons, and she told me that working for Cartoon Network was on of her career dreams from the very beginning. She said that cartoons were the biggest reason for getting into voice acting in the first place. She would rush home from school everyday to watch Animaniacs. She was ecstatic to get to go into the CN studio and have her name on the audition list. I'm definitely Excited for it myself, and to see where it goes after the mini-series is over.
"I was listening to Tress Macneille, being Dot, and I was like wait, I could do that. I could totally do
that."
She spoke the most about her biggest role, Lilly Caul in The Walking Dead in her panel. She said that Lilly was absolutely the most serious role she's ever played. Which Nicki actually liked. She said that it was the first time she was really able to show off her acting chops. She said that the way she got her voice to be like Lilly's was to go to a voice range she calls "LadyTown." It's definitely a range she loves to go to, even saying that it feels good to do. Like a massage on the throat. However, most studios hire her for her higher more bubbly voice. Tell Tale was the first to actually want her to use "LadyTown," and now that she has such a well known character in that range under her belt, she hopes that more studios will let her explore the various ranges of her voice more often.
Nicki is an amazing voice actress and a wonderful person to have had these conventions with. I'm more than excited to closely follow her upcoming work, and interested to see where the future will lead her.
If you are interested following Nicki's work, please check out Firewatch, , and Long Live the Royals, both scheduled to be released sometime this year.
Thanks again to Nicki Rapp for these wonderful conversations.
-Jordan Kamm-